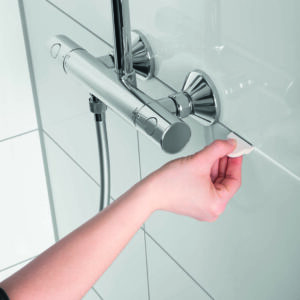 We offer a cost effective solution for your existing wall and floor tile surfaces. We have many years of experience in the tile industry, installing tile in new homes and carrying out renovations. After a few years of wear and tear tiles can begin to look dull and dirty, grout lines especially can become dirty, stained and cracked leaving tiles looking tired.
We use the latest revolutionary and innovative techniques to restore life into old, damaged, stained and broken tiles, making them look like new again.
We provide our tile and grout restoration service to residential homes and also to hotels, motels, rentals, property management companies, bars and restaurants.
WHY CHOOSE TO HAVE YOUR TILES AND GROUT RESTORED?
We can recolor and refresh your old grout lines using our all-in-one colored grout sealers, we can even change the color of your old grout to a new color without the hassle of having to remove your old grout from the joints.
Your old grout lines can also be refreshed by us using the latest German technology diamond tipped grinding bars and your grout can then be sealed using a clear sealer making it shine and look it did on the first day.
Minor grout repair may need to be carried out prior to color sealing the grout if necessary.
You can avoid the headache of having your entire floor ripped up and replaced plus the costs involved for that, by having us clean, restore or change the color of your grout lines while making it easier to maintain.
WHAT IS THE PROCESS OF COLOR SEALING THE GROUT?
When your old grout is permanently stained even the best cleaning methods cannot reverse the discoloration.
Once the grout is properly cleaned by us, our all-in-one colored sealer is then applied which penetrates the grout surface to create a protective barrier against spills and stains.
Our unique colored grout sealing system restores a uniform color throughout the grout joints and it provides a spill proof barrier to protect your grout lines.
This grout sealing process also makes basic tile cleaning of floor and walls easier to maintain without having to get down on your hands and knees and scrub the joints.
OUR REPAIRS AND REPLACEMENT INCLUDE:
Grout recolor and refresh old grout
Tile and grout cleaning using deep steam cleaning systems
Repair damaged/broken tiles by replacement
Re-caulking – remove old moldy silicone and replace using an anti-fungal silicone
Clean and reseal stone, marble and travertine tiles
Shower enclosure restoration—tiles cleaned, grout recolored / resealed and silicone replaced
Wall and Floor Tiling service – installation of tiles in bathrooms, kitchen floors and back-splashes
TIRED OF LOOKING AT THAT OLD GROUT OR BROKEN TILE?
Restore your bathroom back to its former glory. Get a free quotation or give us a call to discuss your requirements. We provide a totally pressure free quotation and are clear and transparent with all costs up front. You will never receive any hidden or undiscussed charges, our guarantee!